Ballast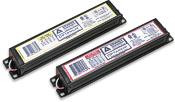 Electronic Fluorescent ballast for T-8 and T-12 Instant or Rapid Start Fluorescent Lamps offer low initial cost, proven performance and fast payback of investment through energy savings. Common Applications: General office lighting, conference rooms, meeting rooms, boardrooms, executive offices, and new construction area installations.

Magnetic Fluorescent ballast continue to provide reliable service and economy over a wide variety of lighting system applications. Magnetic ballasts are available for over 90% of fluorescent lamp types sold today. Electronic ballast are replacing magnetic ballast in many applications. However, magnetic ballasts are the only choice for over 70% of fluorescent lamp types. Common Applications: general office lighting, warehouses and parking garages.


High Intensity Discharge ballast kits come in a quad-volt (120/208/240/277), 480v or a 5-tap kit. They all contain the core and coil ballasts plus the appropriate capacitor, ignitor (where required), mounting bracket & hardware. Common Applications: Industrial, parking lots and garages, landscape lighting, commercial/retail lighting, and sports lighting.


Sign Ballast come in 6 models for 120v and six models for 277v for over 200 lamp combinations. Common Applications: channel letters, contour lighting and back-lit signs.


Workhorse Ballast - fluorescent in-fixture electronic ballast. 9 Ballasts operate 124 lamps in 756 combinations. Solid-State Electronics *

High Power Factor * Small Case Size * Lightweight * Versatile * Energy Saving